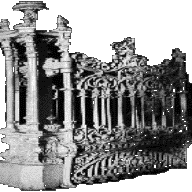 Farewell to Arms -- er, E-zines
©2001 Adirondack WYSIWYG -- all rights reserved
It seems that all the important people have these extensive statements to make as they leave public life, part thank you; part plans for the future; part review of the positives and negatives of their experience. Personally, they tend to bore me to tears, and TSAT is not really leaving yet. Additionally, it's debatable exactly how important TSAT is, so if you decide to skip this missive we'll understand (they say, grinding their teeth).
At the conclusion of the sixth issue of this volume, two more issues for those who don't speak library, TSAT will be losing the majority of its volunteer staff. Phil Geusz, Andy Hollis and I will be moving on to new projects, specifically an attempt to begin publishing e-books while Paul Carmichael and Andy Carpenter have been forced to commit more and more time to their real life jobs.
It's been a great three years for TSAT. We have accomplished our goals of improving the quality of transformation-related fiction and bringing new authors into the fold. We have produced a bimonthly e-zine with quality as good as many of the professional e-zines currently out there. We've also beaten the odds and lasted a full year longer than the average e-zine. Finally, and we hope our readers have appreciated it, we have also done it in a timely manner; a goal that better than 90% of the e-zines currently available on the web have been unable to accomplish. On a personal note, we have demonstrated that we can write for a deadline (try it if you think that's easy).
Like any project, we have our regrets too. Sadly, we were barely able to get our contests, designed to further encourage new writing, off the ground. It also would have been nice if we had been able to convince our readers to provide more feedback for our authors and artists (their only payment for their efforts) Our biggest regret, is that we have been unable to move to the next step, where we could begin to pay our authors, thus helping them become eligible for membership in professional writing organizations like SFWA and thus improve their chances of getting published other places.
To be perfectly honest, none of us want to see TSAT become history. We think it serves a valuable purpose and we would love to see it continue. To that end, this is as much an advertisement as it is a eulogy. We are hoping that one or more of the people who read TSAT will have the ambition to take over and keep it a part of the Internet. Much like Fictionmania has risen from the grave, we too hope for an eleventh hour reprieve. We are not optimistic, but we would love to be proved wrong. So, if you have any interest whatsoever in helping to continue the life of a grand old lady and maybe even help her meet a couple of those goals still pending, we would love to hear from you. If not, thank you for reading our slightly premature eulogy. Enjoy these last two issues. We will do our best to continue to provide you with some of the best Transformation-related Stories, Art, and Talk available on the Internet.
On behalf of all our current and past staff and contributors, adieu.