While there are many claimants to the title of "father of science fiction" -- John W. Campbell, Jr.; Hugo Gernsback; Mary Shelley; and Jules Verne, to name only four -- Herbert George Wells (21 Sep 1866 - 13 Aug 1946) is perhaps the one most worthy of this honor. One cannot deny the power and scope of his writings, nor the perceptiveness of his observations on the society and culture he lived in. A number of his books have been made into movies, but sadly, these films almost uniformly cast aside the social commentary Wells habitually insinuated into even the most ostensibly phantasmagorical of his tales. Food of the Gods, The Invisible Man, The Island of Dr. Moreau, The Time Machine, War of the Worlds, When the Sleeper Wakes -- these are only a few of the scores of novels and stories Wells wrote during his life.

For this, the third in our series of Classic Tales, TSAT is proud to present an excerpt from Wells' In the Days of the Comet, a novel whose basic premise -- human civilization is forever altered by mysterious cometary vapors which fell from outer space -- made it impossible to resist for our TBP-themed issue. In the selection you are about to read, chapter 1 of book 2, Wells' protagonist awakens for the first time after being rendered unconscious by the comet's vapors...

Go here for more information on H. G. Wells, or here for an online copy of the whole book.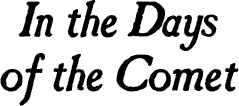 by H. G. Wells
Section 1
I seemed to awaken out of a refreshing sleep.
I did not awaken with a start, but opened my eyes, and lay very comfortably looking at a line of extraordinarily scarlet poppies that glowed against a glowing sky. It was the sky of a magnificent sunrise, and an archipelago of gold-beached purple islands floated in a sea of golden green. The poppies too, swan-necked buds, blazing corollas, translucent stout seed-vessels, stoutly upheld, had a luminous quality, seemed wrought only from some more solid kind of light.
I stared unwonderingly at these things for a time, and then there rose upon my consciousness, intermingling with these, the bristling golden green heads of growing barley.
A remote faint question, where I might be, drifted and vanished again in my mind. Everything was very still.
Everything was as still as death.
I felt very light, full of the sense of physical well-being. I perceived I was lying on my side in a little trampled space in a weedy, flowering barley field, that was in some inexplicable way saturated with light and beauty. I sat up, and remained for a long time filled with the delight and charm of the delicate little convolvulus that twined among the barley stems, the pimpernel that laced the ground below.
Then that question returned. What was this place? How had I come to be sleeping here?
I could not remember.
It perplexed me that somehow my body felt strange to me. It was unfamiliar -- I could not tell how -- and the barley, and the beautiful weeds, and the slowly developing glory of the dawn behind; all those things partook of the same unfamiliarity. I felt as though I was a thing in some very luminous painted window, as though this dawn broke through me. I felt I was part of some exquisite picture painted in light and joy.
A faint breeze bent and rustled the barley-heads, and jogged my mind forward.
Who was I? That was a good way of beginning.
I held up my left hand and arm before me, a grubby hand, a frayed cuff; but with a quality of painted unreality, transfigured as a beggar might have been by Botticelli. I looked for a time steadfastly at a beautiful pearl sleeve-link.
I remembered Willie Leadford, who had owned that arm and hand, as though he had been some one else.
Of course! My history -- its rough outline rather than the immediate past -- began to shape itself in my memory, very small, very bright and inaccessible, like a thing watched through a microscope. Clayton and Swathinglea returned to my mind; the slums and darkness, Dureresque, minute and in their rich dark colors pleasing, and through them I went towards my destiny. I sat hands on knees recalling that queer passionate career that had ended with my futile shot into the growing darkness of the End. The thought of that shot awoke my emotions again.
There was something in it now, something absurd, that made me smile pityingly.
Poor little angry, miserable creature! Poor little angry, miserable world!
I sighed for pity, not only pity for myself, but for all the hot hearts, the tormented brains, the straining, striving things of hope and pain, who had found their peace at last beneath the pouring mist and suffocation of the comet. Because certainly that world was over and done. They were all so weak and unhappy, and I was now so strong and so serene. For I felt sure I was dead; no one living could have this perfect assurance of good, this strong and confident peace. I had made an end of the fever called living. I was dead, and it was all right, and these -- ?
I felt an inconsistency.
These, then, must be the barley fields of God! -- the still and silent barley fields of God, full of unfading poppy flowers whose seeds bear peace.
Section 2
It was queer to find barley fields in heaven, but no doubt there were many surprises in store for me.
How still everything was! Peace! The peace that passeth understanding. After all it had come to me! But, indeed, everything was very still! No bird sang. Surely I was alone in the world! No birds sang. Yes, and all the distant sounds of life had ceased, the lowing of cattle, the barking of dogs...
Something that was like fear beautified came into my heart. It was all right, I knew; but to be alone! I stood up and met the hot summons of the rising sun, hurrying towards me, as it were, with glad tidings, over the spikes of the barley...
Blinded, I made a step. My foot struck something hard, and I looked down to discover my revolver, a blue-black thing, like a dead snake at my feet.
For a moment that puzzled me.
Then I clean forgot about it. The wonder of the quiet took possession of my soul. Dawn, and no birds singing!
How beautiful was the world! How beautiful, but how still! I walked slowly through the barley towards a line of elder bushes, wayfaring tree and bramble that made the hedge of the field. I noted as I passed along a dead shrew mouse, as it seemed to me, among the haums; then a still toad. I was surprised that this did not leap aside from my footfalls, and I stooped and picked it up. Its body was limp like life, but it made no struggle, the brightness of its eye was veiled, it did not move in my hand.
It seems to me now that I stood holding that lifeless little creature for some time. Then very softly I stooped down and replaced it. I was trembling -- trembling with a nameless emotion. I looked with quickened eyes closely among the barley stems, and behold, now everywhere I saw beetles, flies, and little creatures that did not move, lying as they fell when the vapors overcame them; they seemed no more than painted things. Some were novel creatures to me. I was very unfamiliar with natural things. "My God!" I cried; "but is it only I -- ?"
And then at my next movement something squealed sharply. I turned about, but I could not see it, only I saw a little stir in a rut and heard the diminishing rustle of the unseen creature's flight. And at that I turned to my toad again, and its eye moved and it stirred. And presently, with infirm and hesitating gestures, it stretched its limbs and began to crawl away from me.
But wonder, that gentle sister of fear, had me now. I saw a little way ahead a brown and crimson butterfly perched upon a cornflower. I thought at first it was the breeze that stirred it, and then I saw its wings were quivering. And even as I watched it, it started into life, and spread itself, and fluttered into the air.
I watched it fly, a turn this way, a turn that, until suddenly it seemed to vanish. And now, life was returning to this thing and that on every side of me, with slow stretchings and bendings, with twitterings, with a little start and stir...
I came slowly, stepping very carefully because of these drugged, feebly awakening things, through the barley to the hedge. It was a very glorious hedge, so that it held my eyes. It flowed along and interlaced like splendid music. It was rich with lupin, honeysuckle, campions, and ragged robin; bed straw, hops, and wild clematis twined and hung among its branches, and all along its ditch border the starry stitchwort lifted its childish faces, and chorused in lines and masses. Never had I seen such a symphony of note-like flowers and tendrils and leaves. And suddenly in its depths, I heard a chirrup and the whirr of startled wings.
Nothing was dead, but everything had changed to beauty! And I stood for a time with clean and happy eyes looking at the intricate delicacy before me and marveling how richly God has made his worlds...
"Tweedle-Tweezle," a lark had shot the stillness with his shining thread of song; one lark, and then presently another, invisibly in the air, making out of that blue quiet a woven cloth of gold...
The earth recreated -- only by the reiteration of such phrases may I hope to give the intense freshness of that dawn. For a time I was altogether taken up with the beautiful details of being, as regardless of my old life of jealous passion and impatient sorrow as though I was Adam new made. I could tell you now with infinite particularity of the shut flowers that opened as I looked, of tendrils and grass blades, of a blue-tit I picked up very tenderly -- never before had I remarked the great delicacy of feathers -- that presently disclosed its bright black eye and judged me, and perched, swaying fearlessly, upon my finger, and spread unhurried wings and flew away, and of a great ebullition of tadpoles in the ditch; like all the things that lived beneath the water, they had passed unaltered through the Change. Amid such incidents, I lived those first great moments, losing for a time in the wonder of each little part the mighty wonder of the whole.
A little path ran between hedge and barley, and along this, leisurely and content and glad, looking at this beautiful thing and that, moving a step and stopping, then moving on again, I came presently to a stile, and deep below it, and overgrown, was a lane.
And on the worn oak of the stile was a round label, and on the label these words, "Swindells' G 90 Pills."
I sat myself astraddle on the stile, not fully grasping all the implications of these words. But they perplexed me even more than the revolver and my dirty cuff.
About me now the birds lifted up their little hearts and sang, ever more birds and more.
I read the label over and over again, and joined it to the fact that I still wore my former clothes, and that my revolver had been lying at my feet. One conclusion stared out at me. This was no new planet, no glorious hereafter such as I had supposed. This beautiful wonderland was the world, the same old world of my rage and death! But at least it was like meeting a familiar house-slut, washed and dignified, dressed in a queen's robes, worshipful and fine...
It might be the old world indeed, but something new lay upon all things, a glowing certitude of health and happiness. It might be the old world, but the dust and fury of the old life was certainly done. At least I had no doubt of that.
I recalled the last phases of my former life, that darkling climax of pursuit and anger and universal darkness and the whirling green vapors of extinction. The comet had struck the earth and made an end to all things; of that too I was assured.
But afterward..?
And now?
The imaginations of my boyhood came back as speculative possibilities. In those days I had believed firmly in the necessary advent of a last day, a great coming out of the sky, trumpetings and fear, the Resurrection, and the Judgment. My roving fancy now suggested to me that this Judgment must have come and passed. That it had passed and in some manner missed me. I was left alone here, in a swept and garnished world (except, of course, for this label of Swindells') to begin again perhaps...
No doubt Swindells has got his deserts.
My mind ran for a time on Swindells, on the imbecile pushfulness of that extinct creature, dealing in rubbish, covering the country-side with lies in order to get -- what had he sought? -- a silly, ugly, great house, a temper-destroying motor-car, a number of disrespectful, abject servants; thwarted intrigues for a party-fund baronetcy as the crest of his life, perhaps. You cannot imagine the littleness of those former times; their naive, queer absurdities! And for the first time in my existence I thought of these things without bitterness. In the former days I had seen wickedness, I had seen tragedy, but now I saw only the extraordinary foolishness of the old life. The ludicrous side of human wealth and importance turned itself upon me, a shining novelty, poured down upon me like the sunrise, and engulfed me in laughter. Swindells! Swindells, damned! My vision of Judgment became a delightful burlesque. I saw the chuckling Angel sayer with his face veiled, and the corporeal presence of Swindells upheld amidst the laughter of the spheres. "Here's a thing, and a very pretty thing, and what's to be done with this very pretty thing?" I saw a soul being drawn from a rotund, substantial-looking body like a whelk from its shell...
I laughed loudly and long. And behold! even as I laughed the keen point of things accomplished stabbed my mirth, and I was weeping, weeping aloud, convulsed with weeping, and the tears were pouring down my face.